Absolute Gamerz
The mysterious death of a live-streaming gamer
Saturday, 11th March 2017 21:26 GMT (Europe/London)
2314 reads
The death of a prominent gamer has led to a debate about whether gaming marathons are hazardous to health.
Brian Vigneault was a 35-year-old father of three from Virginia, USA who gamed under the alias Poshybrid. In February he took on a 24-hour-long gaming marathon, playing World of Tanks to raise money for charity.
The marathon was streamed to a live audience on the website Twitch, which describes itself as "the world's leading video platform and community for gamers".
Twenty two hours in, Vigneault reportedly went outside to take a cigarette break. He didn't return to the screen - and later died.
Vigneault's exact cause of death has not yet been established, or conclusively linked to his streaming marathon. But his friend Jessica Gebauer, who spoke to him on the night he died, told BBC Trending that he looked "extremely tired" and was falling asleep during the stream.
Since Vigneault's death, Gebauer, who is a fellow streamer, says she has questioned the health implications of continuous live-stream gaming. She is not the only one.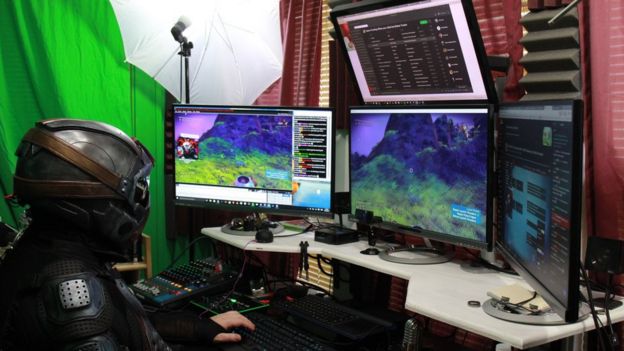 Joe Marino is a "professional" Twitch user, who makes money from subscriptions to his gaming channel. He told BBC Trending that he thinks all streaming platforms should set up limits on how long streamers can stream.
Marino, who says he developed Type 2 diabetes after spending a year streaming on Twitch 12 hours a day, seven days a week, said: "The reason you don't move around on Twitch is because you're live, so if you get up and move you've potentially lost a portion of your audience.
"Viewers equal money."
Following the death of Vigneault, Marino penned a warning article warning about the health risks of his streaming career. It received comments from gamers who said they too experienced health issues following marathon gaming sessions.
Last updated: Tuesday, 23rd May 2017 @ 21:11 BST (Europe/London)
Written by Kayleen Devlin @ BBC Trending

All copyrights and trademarks belong to their respective owners. This site is for the promotion of selected material, no infringements are intended. All reasonable efforts have been taken to credit the respective owners and/or authors.
AbsoluteGamerzNetwork
Cookie Policy | Privacy Policy
()